We celebrate teachers all year for the work they do in the classroom for economic and personal finance education!  In honor of 2014 Teacher Appreciation Week, we wanted to put a bright and appreciative spotlight on the extraordinary teachers who make up our Education Advisory Group (EAG).
What is the SF Fed Education Advisory Group (EAG)?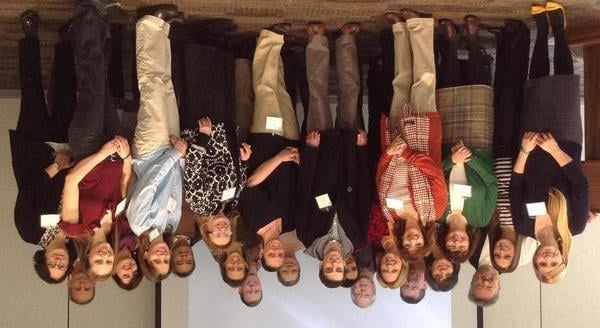 Currently in its second year of existence, the EAG is a group of approximately 20 teachers from throughout the nine western states that comprise the 12th District. They work with us for a period of one year, providing feedback on content ideas, teaching activities, economic education resources, the use of technology, and best practices related to teaching about the Federal Reserve and the U.S. economy.  The EAG is a professional development opportunity for secondary and post-secondary educators who have a vested interest in economic and personal finance education.
EAG-driven survey on flipped classroom materials
In the first quarter of this year, the 2014 EAG assisted us in collecting survey feedback from over 450 high school students on flipped classroom materials that we are developing for use along with our DataPost video on how to read charts and graphs.  We'll get to what we learned from the survey in a minute.  But first, let's review the key elements of the flipped classroom, summarized from Vanderbilt University's Center for Teaching:
1. Provide an opportunity for students to gain first exposure prior to class.
The mechanism used for first exposure can vary, from simple textbook readings to videos to podcasts.  Pre-class exposure doesn't have to be high tech.
2.  Provide an incentive for students to prepare for class.
A task is associated with the preparation, and the task is associated with points.  The task can vary in intensity and may range from online quizzes to worksheets to short writing assignments.
3.  Provide a mechanism to assess student understanding.
Both instructors and students can use pre-class assignments to assess understanding.  For example, pre-class quizzes can help instructors see with which points students are struggling.  Writing assignments help students organize their thinking on a subject and can lead to richer in-class discussion.  Feedback on these assignments is delivered in class.
4.  Provide in-class activities that focus on higher level cognitive activities.
After gaining basic knowledge outside of class, students spend class time promoting deeper learning. The in-class activity will depend on the learning goals of the class and the structure of the discipline.  In an economics lesson, students may engage in experiments that test or illustrate economic principles.  Or, they may be engaged in debates or data analysis activities.  The key is that class time is used to deepen students' understanding and increase their new skills.
What did we learn from our flipped classroom survey?
Most students (76.4% of survey participants) said that they felt the flipped classroom model was an effective way to learn.  Students reported feeling "more immersed in learning" and that the "learning felt more tangible" as a result of the in-class discussion.  They also appreciated the opportunity to learn new content at their own speed, and then engage with the greater class in order to clarify concepts and find answers to questions.
Those who didn't have a positive experience with the flipped lesson model (23.6%) cited frustration with having to wait until the next class period to ask questions, and also noted that the model's success is dependent to a certain extent on a student's self-discipline to learn independently.  They also noted that some subjects may lend themselves more naturally to a flipped classroom lesson.
Most students (68.8%) also said that the in-class discussion was "very helpful" or "helpful" in understanding GDP and how to read charts and graphs.  Another 26.7% felt the discussion was "somewhat helpful."  Only 4.6% of respondents said that the discussion was "somewhat unhelpful" or "very unhelpful."
How do our survey results compare to experiences you've had using the flipped classroom model?