We've been busy at the SF Fed's Los Angeles Branch!  On Tuesday and Wednesday of last week, 96 youth from the Academy of Business Leadership (ABL) visited for sessions on mentoring, financial literacy lessons, and resume and job interview skills.
Thursday saw the arrival of 42 members from the Girl Scouts of Greater Los Angeles for a similar experience.  Both events were designed to develop leadership skills and to encourage careers in banking, business, finance, and economics.
In his welcoming remarks to the ABL audience, Roger Replogle, SF Fed Senior Vice President and Los Angeles Branch Manager, advised the young audience: "Learn to run to the fire – that's where you find opportunity to grow, learn, and help.  Don't look for the easy path.  Look for the hard one."  He shared stories of successes and failures, both personal and professional, and lessons learned.
Lise Luttgens, CEO of the Girl Scouts of Greater Los Angeles, provided welcoming remarks for the Girl Scouts event and stressed that "gender is no barrier to financial literacy and independence."
Personal finance was also on the days' agendas, and students completed an hour-long session that included a budgeting exercise, a discussion on risk vs. rate of return, and a look at the correlation between education levels and career potential.
"I was surprised to see so clearly that sometimes the level of your education determines what kind of job you get," said Irania Mazariegos, who attends Synergy Kinetic Academy.
Later in the morning, staffers from Congresswoman Grace Napolitano's office were on hand to help students understand what it's like to work in a government office.  Ben Cardenas, Napolitano's District Director, talked about the value of networking. "Network by sharing your story.  Then, care for your network.  Water that garden."
Phylyp Bardowell, Napolitano's Field Representative, helped students think through their approach to applying to internships, both while still in high school and throughout their college years.
Lunchtime included talks by Susan Sutherland and Adrian Rodriguez, both Senior Vice Presidents at the SF Fed.  Although their personal and professional backgrounds were different, their message was analogous: Hard work, taking thoughtfully evaluated risks, and respecting those around you are paramount to both personal and professional success.
Susan reminded students, "Whether you know it or not, you already have lots of experience with getting over hurdles, so trust the fact that even though you may not yet know how, you will figure out how to overcome."  Adrian shared the motto from his alma mater Cal State Pomona, "Instrumentum Disciplinae," and encouraged students to embody its meaning of learning by doing.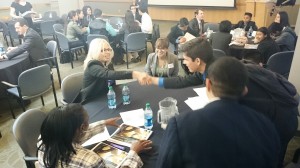 The day concluded with a workshop on resume writing and interview skills, conducted by Judy Ottaviano, Senior Recruiter at the SF Fed, and mentors from the Los Angeles Branch staff. Students reviewed actual resumes that had been submitted to the Fed and critiqued them for formatting and content while learning valuable lessons about how to structure their own resumes.  The students also practiced interview scenarios in role play exercises with their peers and mentors.
Students left in the afternoon buzzing with discussion.  Many were inspired by the day's speakers and felt bolstered by their lessons on leadership.  Others were impressed with their visit to the cash and coin vaults, and having toured Cash Operations.
Sandra Sanchez, who attends LA Leadership Academy, said that her biggest takeaway from the event had to do with finances: "Spend less than you make and invest in yourself first."
With that lesson in the forefront of her mind, we think that Sandra is well positioned to excel and perhaps someday pass along her own pointers for leadership and financial literacy.
Live tweets from the events are on Twitter: #ABLconf and #GSinvest
The SF Fed hosts numerous educational programs for students throughout the year.  Check our website for upcoming events.