Karen Schwartz-Decker from our communications group contributed to this post.
Last week, almost 100 students and their teachers from five Bay Area high schools and one adult school convened at the San Francisco Fed to learn about the importance of personal finance skills in planning for college and careers. This was the second annual Federal Reserve Financial Education Day, which was established as a day of workshops at Feds around the System to provide tools for making wise choices when investing in education and planning for the future. The SF Fed Economic Education Group hosted the event.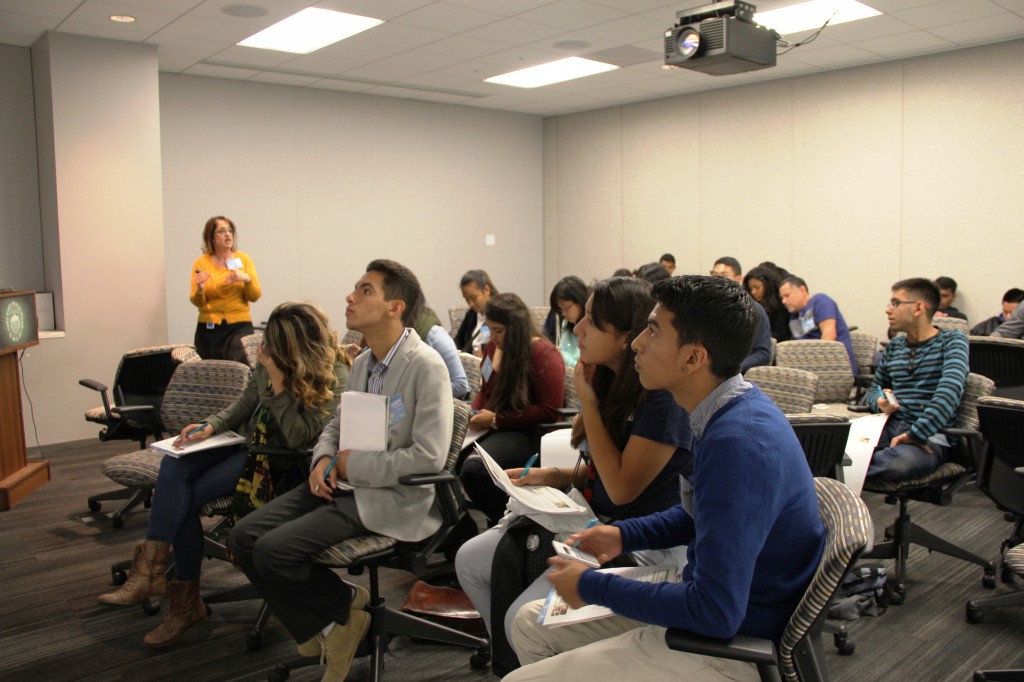 In a series of morning breakout sessions, the students participated in a hands-on personal finance workshop facilitated by Lorraine Thayer and learned about the purposes and functions of the Fed from Steven Fisher. They also attended a session to learn about ways of financing college though scholarships.  The presentation was delivered by Rema Oxandaboure, but was developed by Joel Bervell, a Yale undergraduate from Seattle who collected over $200,000 in scholarships before graduating from high school.
In the afternoon, Jody Hoff moderated a panel of four impressive young entrepreneurs that also was broadcasted live online.* The entrepreneurs ranged in age from 18 to 26 and helm businesses in the food, construction, phone repair, and app development fields. They talked about sources of inspiration, support, financial lessons, and action steps needed to successfully conceive of and run their businesses. A robust Q&A session from both in-person and online audiences capped a spirited discussion.
The afternoon also featured a mentoring roundtable session, in which 23 SF Fed employees from diverse lines of work talked about their educational backgrounds and offered career advice. The students asked the mentors questions about what it's like to work at the Fed, their career paths, and if given a chance to do it over, what the mentors would do differently in preparing for college.
Several of the students talked with the mentors about starting a business right after school, while others worried about incurring debt associated with attending college. Maya Ito, a senior from Arroyo High School, found the information important as she considers her options for college. "I need to learn how to budget and get information on scholarships, because I don't want to be in debt after college."
Kevin Alecca, who is an SF Fed auditor, enjoyed mentoring and spending time with the students. "I was impressed with how many of the students were clear and confident about their career interests and how those interests were driving their post-graduation next steps. They seemed to appreciate that the Fed held the event, and not just because it got them out of the classroom for the day!" Golnaz Motiey works in risk management and agreed with Alecca, adding, "I'm so happy to be part of an important event such as this one and to possibly have even a small impact on the students' future decisions."
Visit Lesson One of "Invest in What's Next: Life after High School," a new course on college and career decision-making created through a partnership between the San Francisco and the Richmond Feds.
* A video recording of the panel will be available on www.frbsf.org/education in the coming weeks.