This post is by guest writer Andrea Abrams, who is a Senior Coordinator with the SF Fed's Economic Education department.  Andrea leads a team of 38 staff outreach volunteers in our Los Angeles and Phoenix Branches who provide tours and personal finance workshops.  Read her full bio here.
Most students know that the bald eagle features prominently on the United States cash in their wallet. When it comes to frogs, reindeer, and bison, however, students may be in for a surprise.
Wildlife meets economics in our nation's cash past.
Fighting frogs
Some of the earliest American notes were issued by private banks, and often contained imagery that was meaningful to the local community.  For example, the currency of Windham Bank, which was located in eastern Connecticut, featured a unique symbol that originated in local folklore.
A legend holds that one night in 1754, two local men were terrified by ferocious sounds of battle drawing near. Eager to protect their fellow residents, the two rushed home to gather reinforcements for what was presumed to be an enemy attack in association with the French and Indian War. No attackers were found, but in the morning the area was filled with thousands of bullfrogs who had apparently done battle the night before, possibly over the small amount of water in a nearby pond. This episode was immortalized in poetry and song…and on the local currency when Windham Bank issued a $5 private banknote depicting two frogs in combat.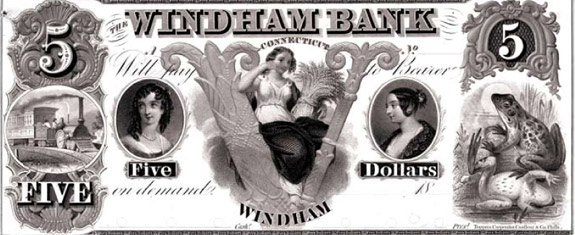 Reindeer on the Santa Claus note
Reindeer hitched to a sleigh have been featured on American currency as well, such as in this nineteenth century example from Pittsfield Bank, which was located in Massachusetts.
In the 1850s, a number of banks used illustrations of Santa Claus and his reindeer on their notes – the most logical being the St. Nicholas Bank of New York City.
Bison on the range
Throughout our nation's era of westward expansion, bison ruled the American prairie.  The bison pictured on this note between portraits of explorers Meriwether Lewis and William Clark symbolizes the strength and pioneer spirit of the American West.  Numismatists disagree on whether the bison is Black Diamond, the animal on the reverse of the Indian Head nickel, or Pablo, a bison which resided at the Smithsonian's National Zoo.
A related assignment idea: Ask your students to research what sectors of the economy involve wildlife.  Have them interview someone who works in one of those industries and report back what they discover.
If you could design a new note that featured an animal, what would it be and why?