There are many possibilities for students' life after high school and lots of questions to consider along the way.  "What path is right for me?" "What do I stand to gain?" "What are my funding options for school?"
We have been developing Invest in What's Next (IIWN), an interactive, online mini-course with the Federal Reserve Bank of Richmond. Through three lessons, students will explore their options, budget for their future, and build a plan that's right for them.
We are happy to announce that lesson 1 has been launched and is ready for you to assign to your students!  After completing lesson 1, students will be able to:
determine what jobs best fit their personal interests and the education required for those jobs
estimate what they want their future lifestyle to be and the income they may need to earn to support that lifestyle
identify the benefits of education after high school
assess the degree levels and school options for education after high school
research education options that meet their goals
analyze charts and data in a variety of formats
The course is both structured and interactive.  Lesson 1 provides students with the guidance to identify their future lifestyle expectations, then investigate the educational and career choices that will steer them towards reaching their goals.
The lesson also helps students to factor in taxes and savings, in order to provide a complete picture of the income they will need to support their future goals.
Next, students explore the relationship between educational attainment and levels of unemployment through an interactive visual.  Students are also introduced to the concept of human capital by analyzing data sets depicting jobs, education level, and entry-level pay.
IIWN then overlays the student's lifestyle costs with their field of interest, showing them examples of the kind of jobs that would satisfy both their lifestyle hopes and personal interests, and what level of education is required to land those jobs.
Once students have learned about the benefits of education, the course takes a closer look at some of the different education levels: certificate, associate's degree, and bachelor's degree. These are some of the most common education options after high school.
For each education level, students will find a description, some facts, possible jobs, and areas of study.  For a deeper dive, each listed job is linked to a detailed profile available for exploration in the Bureau of Labor and Statistics' Occupational Outlook Handbook.
Students are guided down education paths from a drop-down menu to see the institution types that offer particular awards or degrees. The orange check marks that appear below represent the institution types that commonly award the selected certificate or degree. The gray check marks represent institution types that are less common. Students can click on the check marks to find out more about each type so they can compare the options. The listed schools are linked to full profiles on the National Center for Education Statistics College Navigator site.
Students will research at least two schools that interest them, and complete an online worksheet that outlines the schools' costs and funding options.
3-question 'knowledge checks' are interspersed throughout the lesson to ensure that students are comprehending and retaining the lesson's content. Answers and scores for the knowledge checks are recorded in each student's account and can be reviewed at a later time.
Lesson 1 concludes with a personalized homework assignment that asks students to consider sources of money that may be available to help pay for their education – for example: family contributions, personal savings and work income.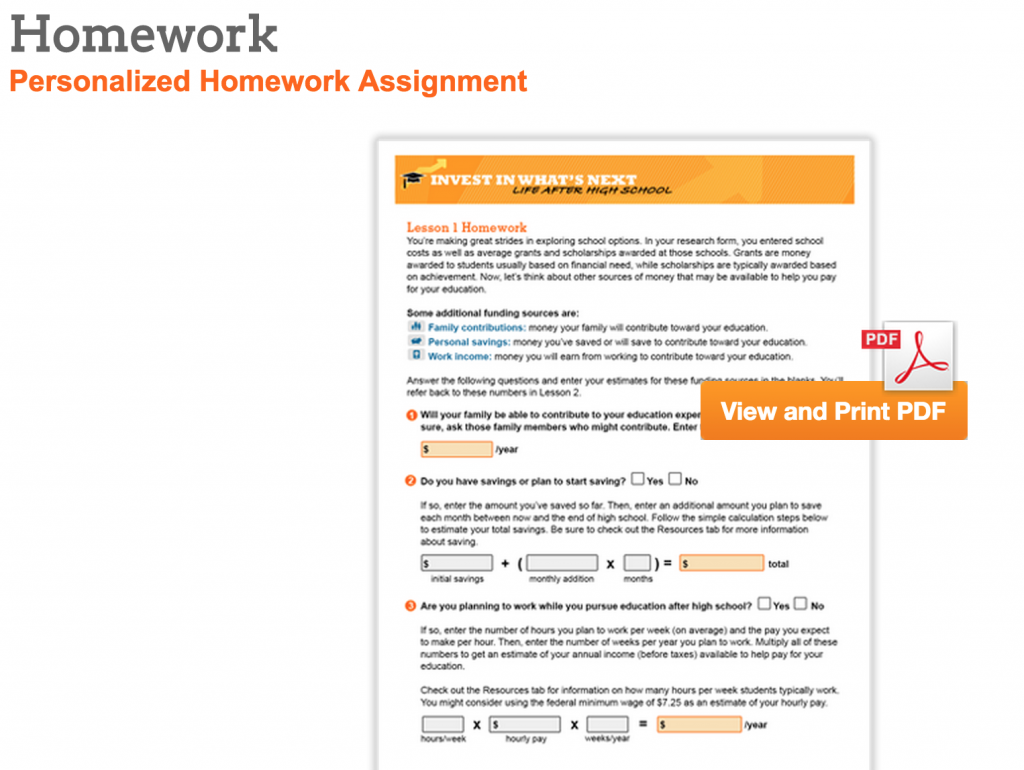 Throughout the lesson, each student's dashboard keeps track of progress and completed research, for reference throughout the rest of the mini course.
Let us know how you and your students respond to the course!  Lessons 2 and 3 are under development, to be released soon.